There was no pressure at all to be up super duper early and into the parks so that is a plus of departure day. Most of the packing was done the previous night except for my husband of course because he stalls when doing pretty much anything. Ha! Once we were packed we headed to Kona Cafe located in the Great Ceremonial House at the Polynesian Resort. I feel like I can't go to WDW without visiting Kona Cafe for breakfast. It's just a crime.
After a short five minute wait we were seated and ordered drinks. The moms got coffee, Matt got chocolate milk, and I got either water or pineapple juice. I can't remember. I'm going to shock you and let you know that I didn't get my usual Tonga Toast to eat. I had a huge craving for blueberry pancakes once I saw the menu. The potatoes are out of this world at Kona so I had a side of those as well since I knew Matt would not be willing to share his. He got his usual ... the Big Kahuna! It's sort of a mix of yummy breakfast foods thrown onto a plate and ready for Matt to drench in syrup. Both of our moms got the ham and cheese omelet. I believe the ordering went something like this...
My Mom: "Diane, what are you getting?"
Diane: "The ham and cheese omelet sounds good."
My Mom: *looks at menu" "Oh! Yeah, that DOES sound good!"
Us: "Copy cat."
Once we were done with our delicious breakfast we went to the gift shop downstairs so I could buy a watch that I had been eyeing all week. There were actually two watches that I loved but one was about $50 more. I'm sort of a tight wad so I went with the cheaper one. I absolutely love it and I wear it almost every single day.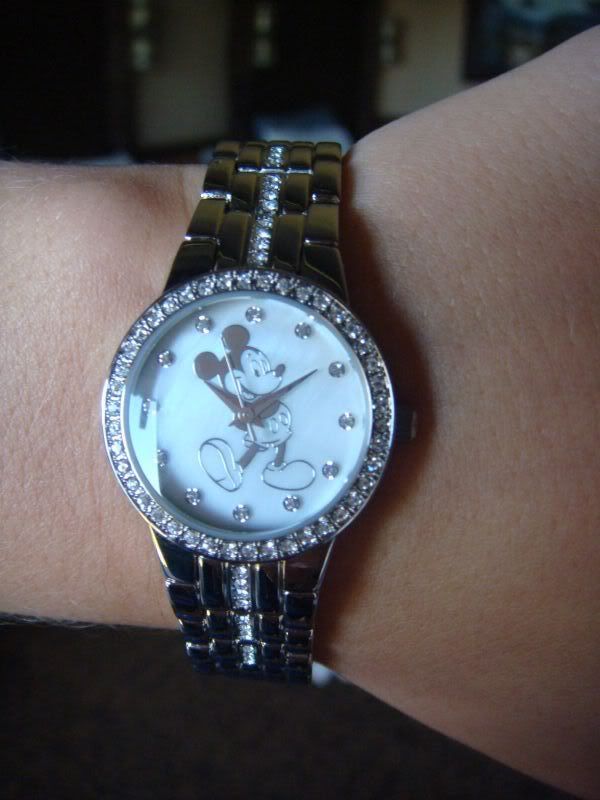 There was a group of performers in the lobby. One of which was an adorable little girl that was on the shy side. I got a kick out of her. These little details are why I really treasure the Polynesian Resort.
We all headed back up to the room to get our last minute things put in our bags and make sure we didn't leave anything behind. It was incredibly sad to walk out of the room with luggage in tow... turning back and having such a beautiful sight to see.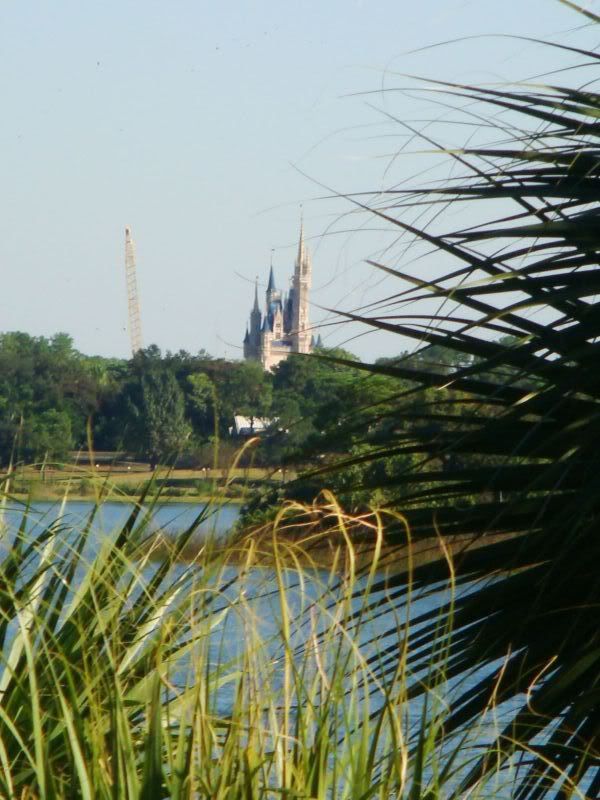 The walk to the Great Ceremonial House was terribly sad as well. Saying goodbye to everything that is so lush and beautiful. Walking by folks on their way to the parks. I went to the front desk and checked us out and then we gave our bags to the Magical Express folks outside the GCH. We were gravely concerned that they were going to tag our bags wrong because the woman doing it seemed sort of scatter brained. When we were sure all was well, we headed back into the GCH to catch the resort monorail. We all felt it was necessary for Diane to see the inside of the Grand Floridan Resort.
Everytime I walk through the doors in that resort I feel like I'm transported back in time. It's such a beautiful resort. I'll admit that it is a little stuffy and you might feel silly walking around in park clothes and a Goofy hat. It's totally worth it though to see where Aunt Becky stood while Uncle Jesse played the piano and sang to her. :) Full house fans?!
My mom went into one of the gift shops on the second floor and got a necklace then we looked around at shops on the lower level. The people that work in these are terribly snooty. We had fun goofing around though just to tick the CMs off. :) Gotta be juvenille sometimes! While window shopping was enjoyable, we wanted to get back outside in the fresh air.
I've never walked around the grounds outside at the GF before. Everything was absolutely beautiful. It's so open and airy outside and it's enjoyable to just walk around. I couldn't help but run down the beach to a hammock and relax for a few minutes. I remember as a kid looking at pictures of the Grand Floridian and seeing the hammocks on their beach and thinking how amazing it would be to lay in one.
It was a really cool view of the Polynesian Resort from the Grand Floridian's beach. I can openly admit that from afar the Poly doesn't look like anything special. That was always my thinking about it when I was a kid. Once you're inside though it's a totally different story.

A few more shots before we went back into the lobby of the Grand Floridian to catch the resort monorail back to the Polynesian Resort.
The monorail took us around full circle back to the Polynesian Resort. We were thinking we might be cutting it close for when our Magical Express bus was supposed to come and pick us up. To make matters worse they had to stop our monorail just before we entered the Contemporary Resort so I started tapping my foot hoping it would move a little quicker. Though, I don't think missing that bus would have been the WORST thing that could ever happen to us. Another day at WDW? Sure! :)
We did make it there in time and boarded the bus that would take us to Orlando International Airport. It was a particularly sad goodbye. I didn't want to leave the Polynesian Resort for anything. A dream had come and gone. I guess the crazy Floridian Christians didn't want me to forget one thing though so they painted it across the sky... Jesus Loves U