This morning I woke up with the incredible itch to plan another trip to Walt Disney World for myself. It's just too soon for me to be able to say when i'm going next. In the mean time... i've decided to actually finish blogging about the trip back in September with my mom. Better late than never, right?
The night before the flight out I did my "rush packing" since I was being horrible about getting things packed ahead of time. The mess looked something like this...
Matt and I woke up very very early the next morning and finished all of our last minute packing pretty quickly. We were out the door on time believe it or not! We grabbed my mom and then his mom. His mom is kind of a slow poke so that part of the morning kind of slowed us down and put us behind schedule. Luckily, we made it to Detroit in a good amount of time. Not too early and not too late. Checking the bags took longer than security. That's typical for Detroit. When we went to the restroom there was a family on their way to Walt Disney World for the first time so I chatted with them for a while and told them they were going to love it! Matt and his mom then went to the left side of the airport for their flight out to San Francisco and we went to the right. Saying goodbye wasn't as hard as it has been before since we knew that we'd both be having fun on our own vacations. Here's a shot of mom and I goofing around before our flight.

Mom and I watched some "Disney On A Dime" on my iPod during our two and a half hour flight. Smooth flight... no issues! Just how I like it! Once in the gorgeous Orlando International Airport we headed down to Disney's Magical Express. Very short line at the counter but we had to wait a half hour to get on a DME bus. I admit, I was getting impatient. Once we were on the DME we made a little video talking about how excited we were to finally be in warm weather again. The bus had to drop some guests off at Caribbean Beach Resort (where we stayed last year) so it was kind of fun to see our old stomping grounds again. We got to Pop Century pretty quickly and we were SO happy to feel like we were back "home" again.

Our room wasn't ready at express check-in so they took my cell number and texted us later when we could come back. We dropped the bags off, went to the restroom to change into shorts and tank tops, then stood in line for a bus to Animal Kingdom. Once the bus came, a kid got off and gave us two FastPasses for Kilimanjaro Safari. Yay! We got to the park after having a looooong conversation with the bus driver and headed for KS. We waited in the FP line about 15 minutes. The park seemed pretty packed but we weren't there to do attractions... just eat. We both love KS and this time we got a great view of the lion. Very rare!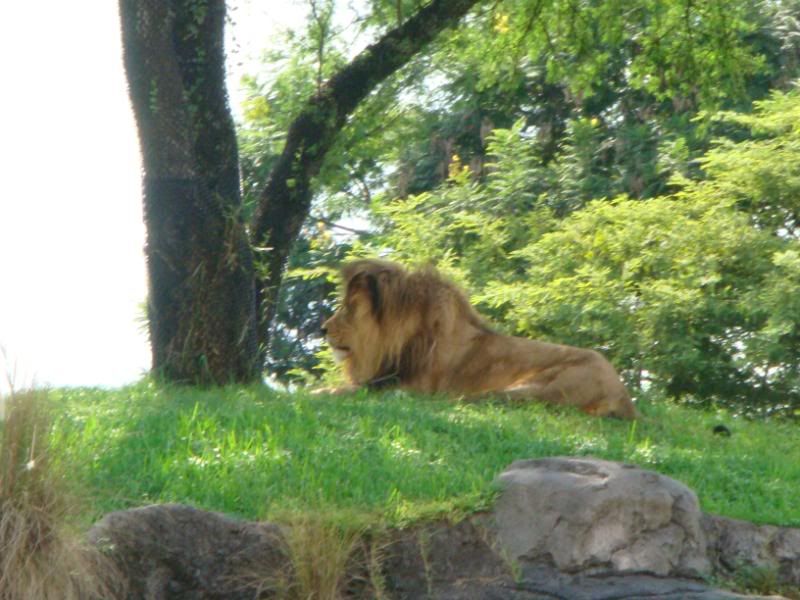 Mom and I walked around for a little while to kill some time before our reservation time. Didn't ride anything though.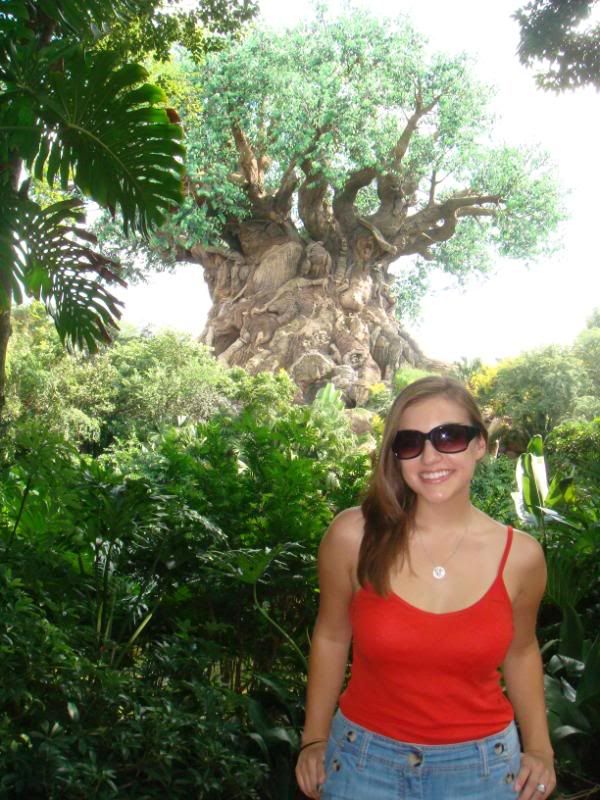 I tried to check us into our reservation at Tusker House early but the hostess suggested that we wait for the technical "dinner" time to roll around (which was our ADR time) and enjoy the parade while we wait. So, I grabbed an African beer (my first alcoholic drink at WDW) and we sat down to watch the parade. The beer was awesome! Believe it or not, this was our first time seeing the parade at Animal Kingdom! We REALLY liked it! The floats are just gorgeous!!!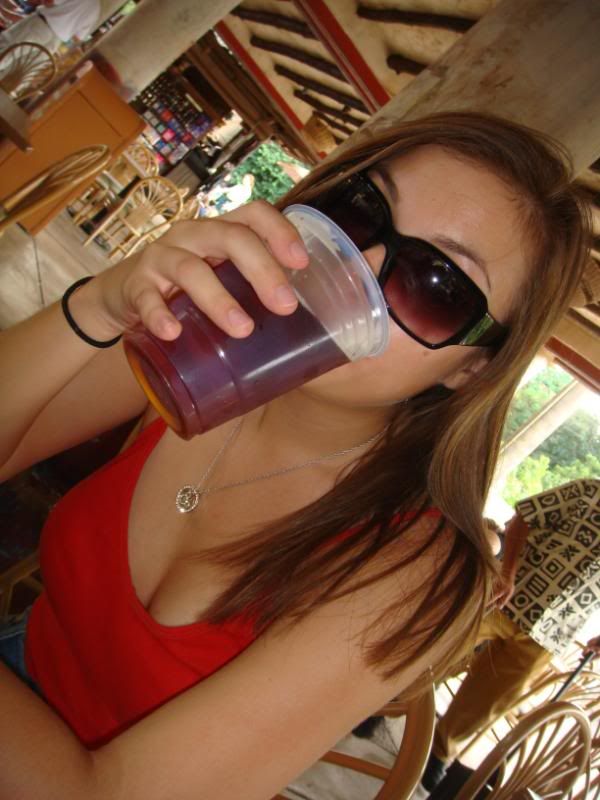 Tusker House was renovated a little while back from a counter service restaurant to a table service buffet style diddle. It was just like I remembered only the decor wasn't so tacky. They had some cool art on the wall that I would have liked in my living room. We both ordered our drinks then headed straight for the food. We were starved at that point. This was our first visit to Tusker House and we couldn't have loved it more. I thought maybe the food might be to "weird" for my mom but it wasn't! The chefs were really great about showing me what was vegetarian friendly and what wasn't. There was more than enough there for me to eat. I absolutely fell in love with Disney World hummus on this trip. Tusker House has the best. Mom and I both agreed that it was the perfect meal to start our vacation out with. Clearly she liked it...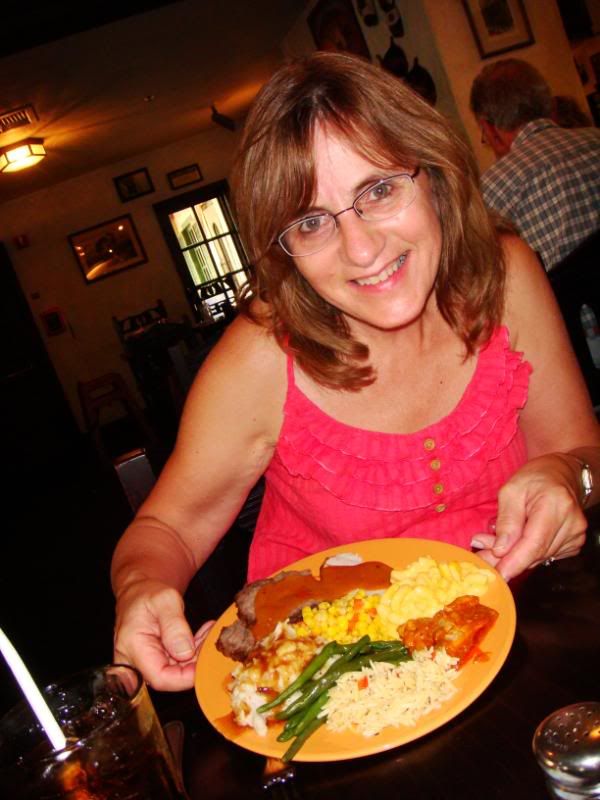 Mom and I headed back to Pop Century because we got the notification that our room was ready. We grabbed our bags and headed for our room in the 50's section behind the juke box on the 4th floor. It was nice to unpack and organize the room how we wanted it. For some reason our bathtub liked to drip water. No matter how hard we turned that stupid knob it just wouldn't quit running. The maid always could do it when she'd come to clean up though. Guess we were either just weak or dumb. haha!

My friend Ed was vacationing with his family at WD at the same time we were so I met up with him that night and we went to Epcot. Mom stayed in and relaxed so she'd be pumped and ready for the next day of fun. Ed and I had a blast walking around the World Showcase for the Food and Wine Festival. It was our first time during F&WF and it was SOOO COOL! I can't wait to do it again. Really really. All the different countries represented with great drinks and yummy food. Pure heaven in my eyes. We both got Grand Mariner slushes from France and then watched Illuminations. It's still not my favorite nighttime show. Just kinda short and boring to me.
Back to Pop Century we went to go to bed. It was a very fun and exciting first day at Walt Disney World.